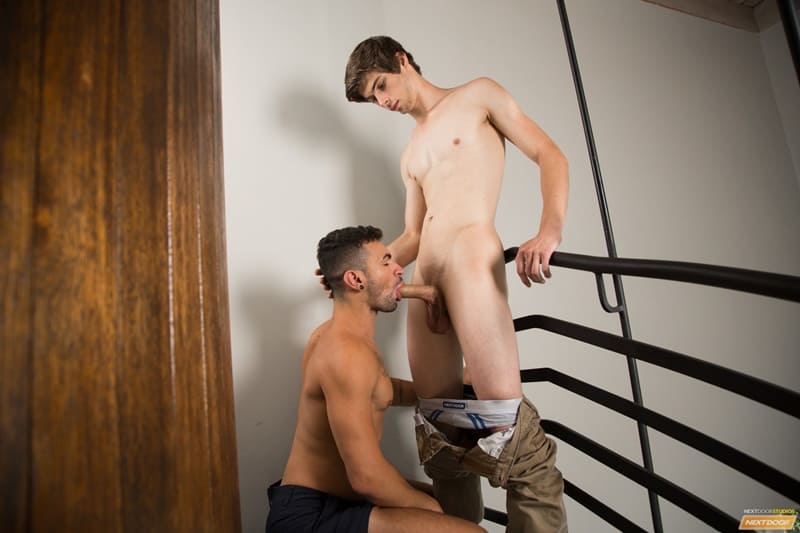 Next Door World says: Chad Piper is a little nervous as he knocks on the door to this internet stranger's house, but as soon as Ian Greene lets him inside, Chad is immediately distracted by how nice the place is.
He immediately conjures fantasies of fucking in every corner of the house, and luckily, Ian is ready to start right now on the stairwell, grabbing Chad and kissing him as he takes off his clothes.
Removing Chad's pants, Ian gets his an up close look as his cock, and realizes he isn't about to be disappointed, as he downs Chad's cock in one fell swoop, taking him into his mouth all the way to the base, gagging on the shaft as Chad breaks out of his shell and pushes Ian's head down even further.
He comes off it for air and Chad tells him he wants to give it a go, so Ian reclines back onto his elbows as Chad sucks him off and fingers his hole.
Spitting in it, he tongue fucks Ian's hole before plunging his raw dick deep inside, fucking Ian in a standing doggy as he clings to the stair rail for dear life. Chad fucks him hard from behind before giving Ian a chance to ride.
Ian jumps at the opportunity, mounting Chad's cock and giving it a nice spin, before laying back and stroking himself off as Chad fucks the cum out of him.
He finally empties his seed into Ian, breeding him as Ian closes his eyes and imagines where Round 2 should happen.